Designing for television: food safe props for The Great British Menu 2014

The Brief
Towards the end of 2013 endjin were handed a brief by Mark Poynton, Head Chef and owner of Restaurant Alimentum in Cambridge for his entry into the Great British Menu 2014. For those not familiar with the TV show, it offers the chance for the nation's top chefs to compete for the opportunity to cook a banquet for a "high-profile" figure. This year, to commemorate the 70th anniversary of D-Day, the banquet was held in St Paul's Cathedral and the guests were D-Day veterans. Each week the show focused on a particular area of the UK and 3 of the top chefs from that region would compete against each other for this prestigious prize.
The narrative for Mark's menu was a soldiers' journey through food; from leaving home with a pack lunch, to the harbour with a taste of the sea, and finishing with a dessert inspired by the beaches of Normandy. As part of Mark's props we were asked to design and produce a replica front page of a newspaper dated June 4th 1944. This would line the inside of the lunch box for the starter course. Decorating the top of the lunch boxes, would be an artists interpretation of the English Channel and the Normandy beaches.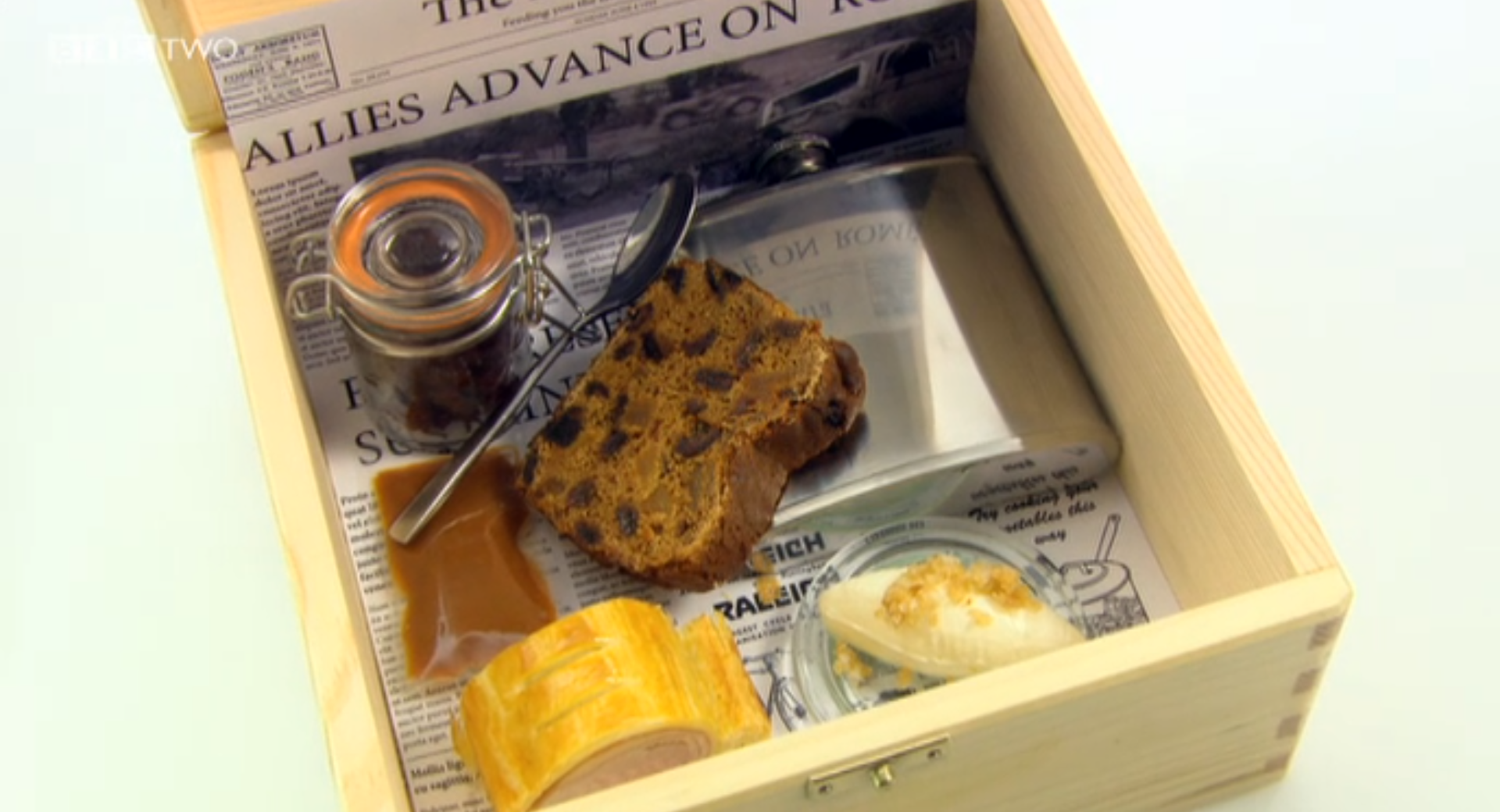 The Front page
"Easy!" I hear you cry? Well not quite! During our research it was difficult finding any pictorial references of English Sunday newspapers from this period. Eventually my research for newspapers on Sunday 4th 1944 lead me to Historic Newspapers; where I found a banner highlighting that Sunday newspapers during WW2 were quite rare. I decided to get in contact with the lovely people at Historic Newspapers, to find out why this was the case. They told me that Newspapers, at this time, were not generally printed on Sundays and therefore there were no records to keep. Despite there being material shortages, this did not affect the production of newspapers - as the 1940s were a decade of massive growth in newspaper sales – instead they were produced with fewer pages. Tabloids went down to 8 pages and broadsheets went down to 4 pages. As unthinkable as it is now, with absence of Internet and Television, newspapers were far more popular in the 1940s – along with radio - as these were the key information channels to access news of the global events. Interestingly there were no sales figures collated during WWII but the team at Historic Newspapers came back with some impressive post war sales statistics that far out strip today's circulation.
Sales figures for 1948:
News of the World: 7,887,488
Sunday People: 4,672,708
Sunday Pictorial (the old name for the Sunday Mirror): 4,004,571
Sunday Express: 2,578,862.
Against recent figures from April 2014:
Sun on Sunday: 1.7 million
Mail on Sunday: 1.5 million
Sunday Mirror: 928,697
Fonts
Owing to the scarcity of Sunday papers, we could only go for the look and feel of a period newspaper. From screen grabs we could see how the Newspaper titles were laid out and the style of fonts used. There were a variety of fonts and cuts in use at the time ranging from Gothic or serif fonts. We wanted our page to be clear, clean and concise and opted for Minion Pro because it bore a resemblance to the serif faces; it's a clean contemporary font that gave us the look a feel of a period paper.
Images and Copyright
Rights issues in television can be complex and effective control of those rights is critical for programme makers and broadcasters. Alan Davies was recently interviewed and revealed why QI can not be broadcast in America. Due to the sheer volume of images used in the background of the set, copyright law would make it prohibitively expensive to clear the show for airing over there. With this in mind the production company required approval for all the content used in our layout. To do this we had to meticulously source all of our imagery.
To give us an inkling of how to structure content of the flow of a page we plundered the history vault to see the main stories in the press at the time. Apart from the obvious headline of the day we found adverts peppered across the layouts including the header - breaking up the stories. Stories were crammed in with space was at a premium owing to fewer pages. Our image research leads us to Wikimedia Commons library. Wikimedia Commons is a free media file repository where images and freely licensed educational media content (images, sound and video clips) are publicly available to everyone. Unlike traditional media repositories, everyone is allowed to copy, use and modify any files here freely as long as they follow the terms specified by the author.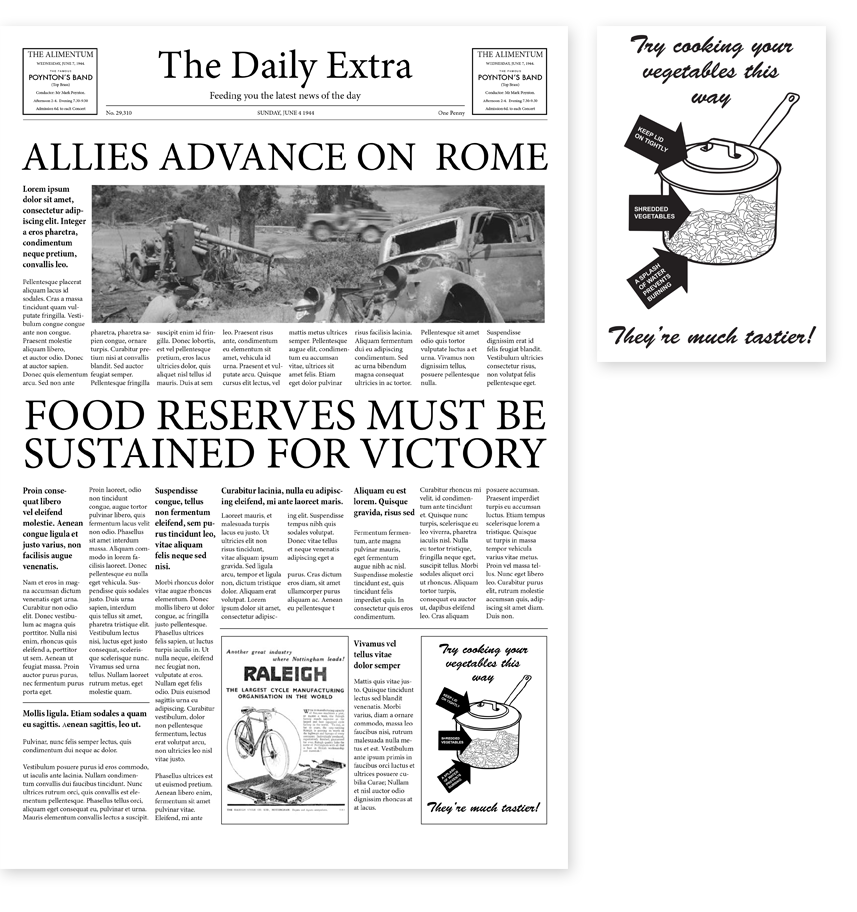 The Layout
With our resource collated we began to layout the page, paying attention to columns and fonts. We recreated the vegetable adverts as we could not confirm the artist or date and used them to break up the lower half of the layout. Once we had approval from Mark Poynton, we sent the layout on to the Production Company one last time for clearance.
Production
Whilst we were designing our page we also resourced food safe printers for production. There are few companies that can boast food safe printing; those that do primarily do so on a large-scale for supermarkets and could not entertain our shot run of 70 off (Quantity). We looked for smaller bespoke printers who might be able to offer this capacity. Eventually we found Calverts, a cooperative print house based in Bethnal Green. A quick chat with Arthur, who sent through a certificate of food safe print accreditation and we were in business! They provided a fast turn around and excellent quality.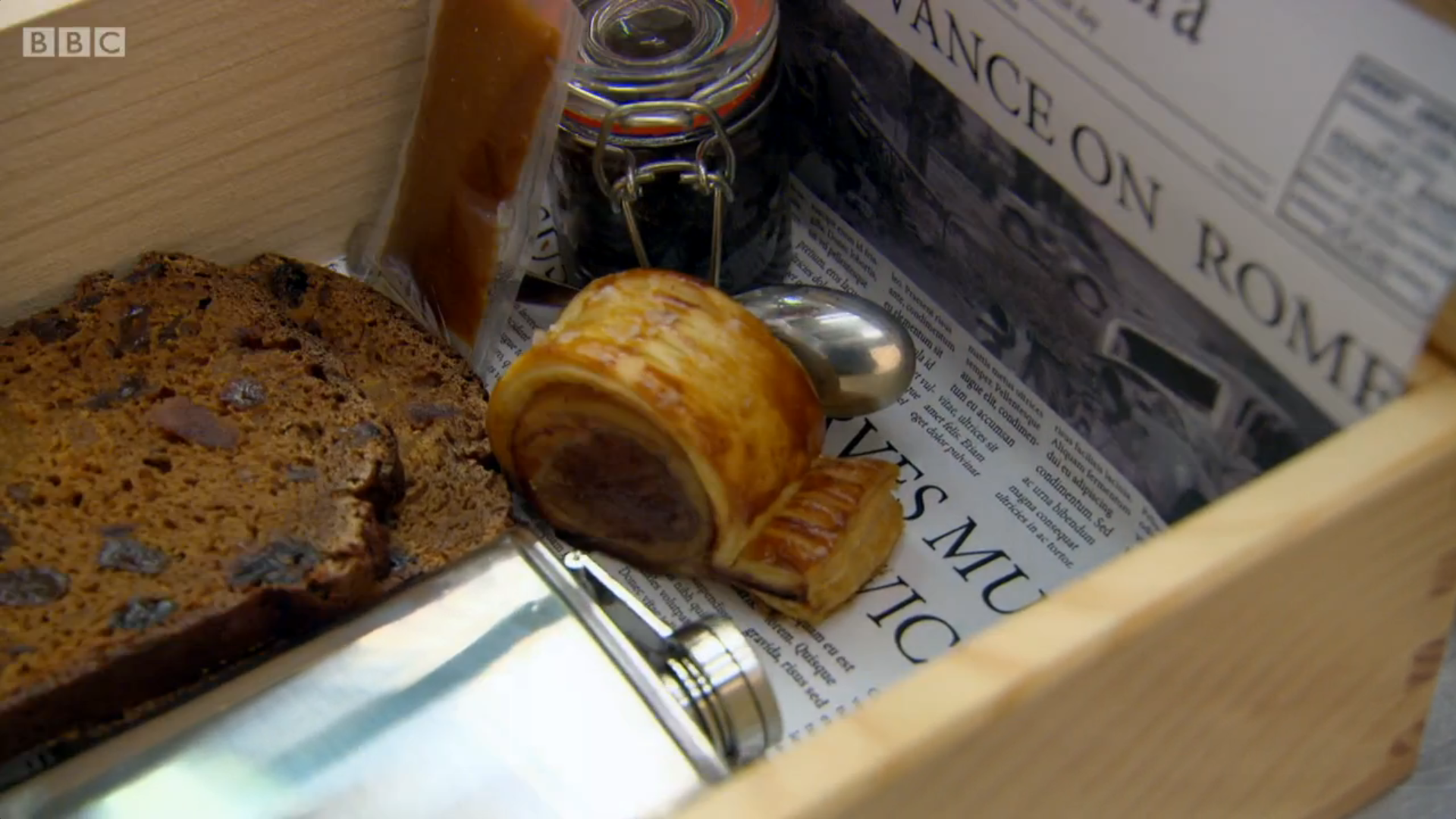 The second part of this project was applying a graphic treatment to the top of 4 lunch boxes, which would group them as part of a set. We worked with an illustrator who drew an aerial view of the English Channel. This was then divided in to 4 and produced as a vinyl by MJ Impression. The vinyl was applied to the box so that when they were laid out together they formed a map of the south coast of Britain and the Normandy beaches.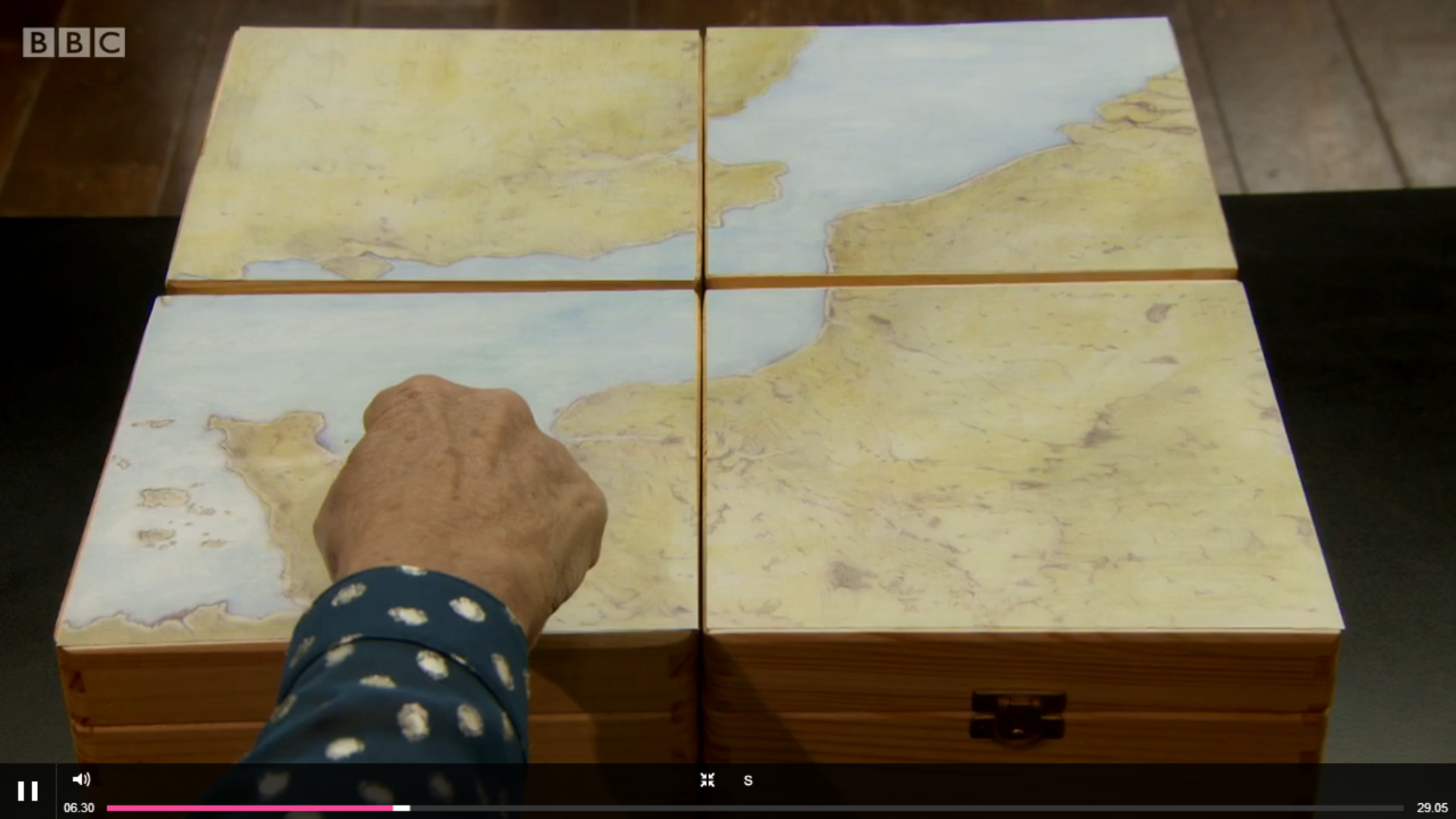 What started out as a simple 'can you design and print?' request became much more in-depth in terms of research, rights management and production. It pulled down on all of our skills and contacts outside of the digital arena to produce a great collaborative end result (and the sausage roll was exceptional!).