Programming C# 10 Book, by Ian Griffiths, published by O'Reilly Media, is now available to buy.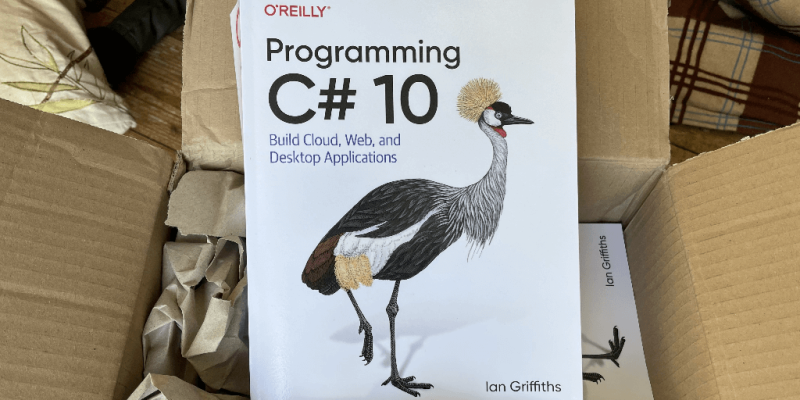 Endjin Technical Fellow and 15 times Microsoft MVP Ian Griffiths has been the author of O'Reilly Media's Programming C# book series for over a decade; C# 5.0 (2012), C# 8.0 (2019), the latest edition covering C# 10 (and C# 9.0 features) has just been released to buy: [Amazon UK], [Amazon US].
The .NET landscape has changed dramatically since the C# 8.0 edition was published in 2019; the "One .NET" initiative finally delivered a unified, high-performance, multi-CPU architecture, cross-platform version of .NET with Long Term Support.
Programming C# 10 covers all of the additions and changes to the C# language that have been made since the C# 8.0 edition, including:
C# 9.0
record types
partial methods
type patterns
C# 10.0
async keyword
boilerplate reduction
CallerArgumentExpression
global using directives
ignoring arguments in anonymous methods
namespace declaration
nullable references
property patterns
record structs
release of
return types for anonymous functions
string interpolation
throwing exceptions
tuple deconstruction
using static directives
zero-argument constructors
The book is written for experienced developers who want to gain a thorough understanding of C# and the underlying .NET runtime.
Code samples from the book can be found at https://github.com/idg10/prog-cs-10-examples
Ian has also published a number of in-depth articles delving into the nuances of C# 9.0 / 10 / 11 and .NET 6, which you may find interesting: