From collection vans to collection interfaces - my first week back at endjin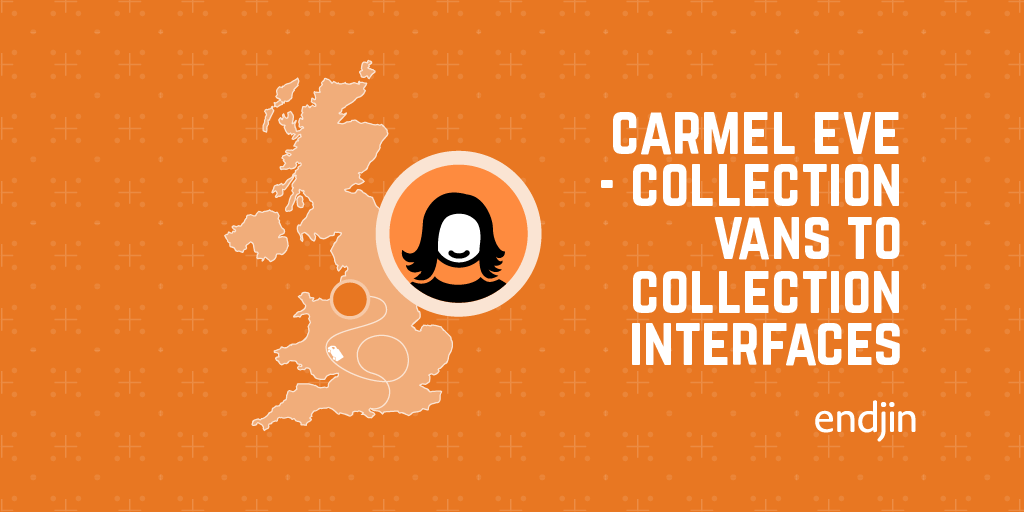 It's been a pretty big week for me in a lot of ways, I've moved halfway across the country, started a "new" job, and used my brain for the first time in about six months.
But I am so excited to be able to say that I have started back, on a permanent basis, with a company that I feel extremely lucky to be a part of.
Monday was my first day back at endjin, who I have worked for on and off over the past two years. When I first started here I was a lowly undergrad, with extremely limited coding experience, and no experience whatsoever in writing software in a professional environment.
Two years later I can confidently say that I have progressed significantly in both fields.
After finishing my master's degree last June, I came back to work on a temporary contract before taking some time out to travel.
During my time here, I built on the knowledge I gained during my internship in 2016 until I felt infinitely more comfortable while immersed in Azure and the world of data processing.
As ever, endjin were brilliant in allowing me the freedom to find my feet with the new concepts, whilst also giving me the support I needed to be productive. Over the 5 months I was working here I developed part of a data management system based in Azure.
This allowed me to explore many aspects of the service, including ARM templates, PowerShell deployment, Azure Functions, Event Hubs, and many other APIs. This gave me a far better insight into the endless possibilities which are opened up by the Microsoft Cloud.
It was also my first experience of remote work, and while I think that it is an exciting way in which the industry is heading, I must admit that I did struggle a little with the change. The advantages of remote work are well documented. With busy schedules and countless commitments, the lack of commute can be a lifesaver in many situations.
It also allows employees the freedom to work from wherever they are based. This reduces the need for relocation, which in turn opens up the possibilities for recruitment. However, though remote work can be incredibly liberating, in my experience it can also feel somewhat isolating.
So, when endjin reached out to ask what my plans were when I returned from travel I was a little reluctant to commit, the company having gone fully remote while I was away.
However, I was quickly reassured as Howard explained to me the ways in which they have changed their business model to support remote working.
As part of these modifications, I am currently writing this from a co-working space in central Manchester.
My first week here has completely sold me on these spaces as a mode of work.
I still have the option of working from home if, as seems to happen on a far too regular basis, there is some maintenance worker or energy supplier that needs access to my house.
But, I also have the option of working out of a fully functioning (and extremely trendy) office, surrounded by people from all industries. All of this without having to choose between the place I want to live and the company which I am so grateful to be a part of.
A view over the co-working space - there are desks here too I swear...
Alongside the provisions for a co-working environment, regular meet-ups are being organised between different members of the team.
I think this is an incredibly important thing to think about if considering working remotely. Because as much as modern technology allows people to work productively while miles apart, I think spending time with those you work with is vital for feeling like an effective part of the team.
In addition to catching up on the last six months with various people (I'm not sure those on the desks around me have wholly enjoyed hearing me repeatedly recount my travelling adventures), my first week back at endjin has been mostly working through training materials surrounding C#.
Not only was this incredibly necessary after my brain's six-month hiatus, it has also given me much more insight into the hows-and-whys of the language.
Because, although I have now been writing in C# for a couple of years, there were a lot of things that I knew to do (or to avoid doing) without any real grasp of why that was the case. The last week has solidified a huge amount of my knowledge and given me a far bigger appreciation of incredible amount of power behind the language.
I have many topics still to cover, and a huge distance to go before being able to make full use of the almost limitless possibilities that they provide; But I cannot express how excited I am to continue this journey, and I cannot imagine a more enriching, supportive environment in which to do that than the one endjin provides.