Top Gadget Purchases of 2016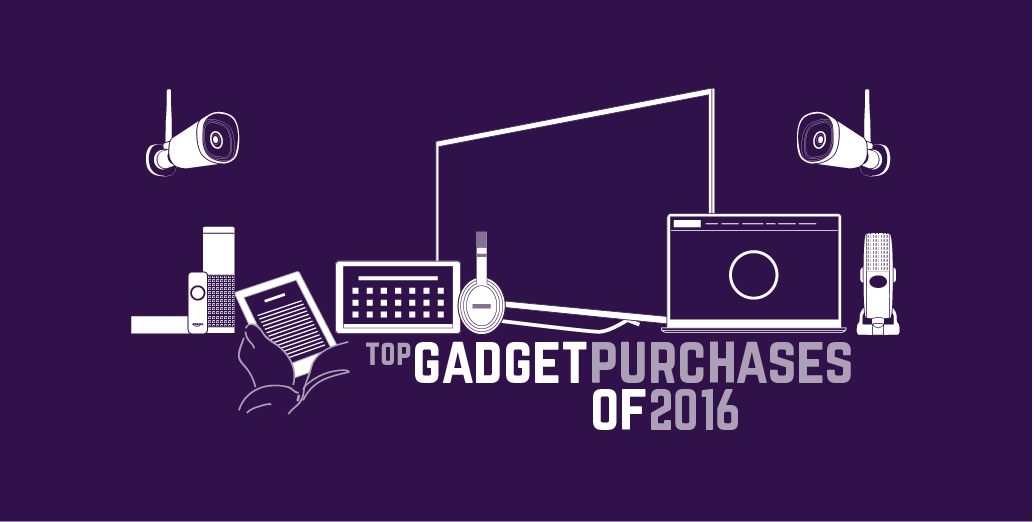 TLDR; I'm surprised how much Amazon based hardware I've purchased in 2016– they've become the conduit that all my entertainment comes through.
Amazon Fire TV 4K Ultra HD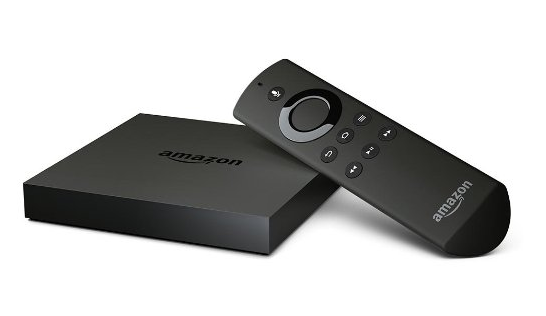 I thought I'd end the year with a look at some of the tech I've acquired over the last 12 months. First up is the Amazon Fire TV with 4K Ultra HD – I bought this to replace my old Fire TV because this device had a little more horsepower and a had a number of good reviews. This was a hesitation free purchase because the previous Fire TV is one of the nicest media devices I've owned; it's slick, trouble free, silent (it doesn't have a fan) and has great UX (the voice control is so good that my 2.5 year old niece can say "Tumbleleaf" or "Dugee" and get the show she wants). Even though I now have a new Smart TV (see below) I mostly use the Fire TV to push content to it because the UX & speed is so much better than any of the TV manufacturers have managed to produce (even more vanilla Android powered ones). The ability to plug in a USB stick and play back an MP4 or a MKV file is also a big plus; a highlight of the year was when I brought home the first cuts of our new case study videos on a USB and plugged it into the Fire TV and played them to the family – the reaction was fantastic. Just before Christmas the Fire TV received a big software update with a new UX – and deeper integration of 3rd party apps – my particular favourite is Netflix integration on the home screen.
Amazon Echo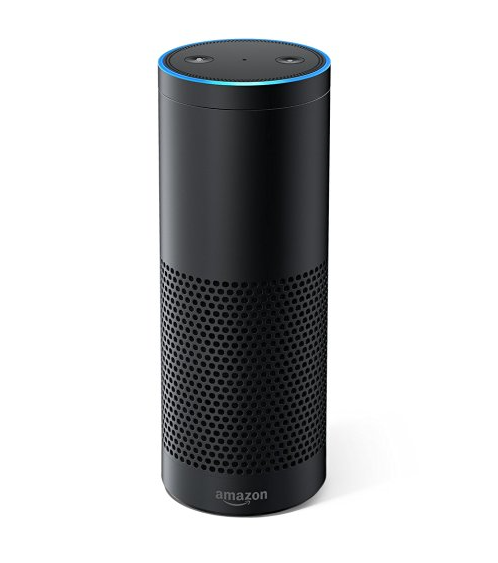 Based on how much I love the Fire TV, I took a punt and pre-ordered an Amazon Echo. I'm a Windows Phone user (I'd probably classify myself as someone who just needs a phone that can both take and make calls and check emails & Slack and the Lumia 950 has been rock solid for the past year) – so I'm used to Cortana both on my phone and on my desktop. I get quite a few insights from Cortana (traffic insights telling me I need to leave the office ahead of time to get to a customer meeting is invaluable, as is telling me that someone has booked a meeting when I'm usually commuting home), but I've not got into the habit of using voice commands yet – I'm hardwired to use a keyboard on my PC and I'm often in public places (i.e. on the train) when I need to use my mobile – so using voice commands is impractical (and would annoy other commuters), but at home it's a different ball game altogether.  One of the main reasons I wanted an Echo is that I want to get out of the habit of having a mobile device on my bedside table. Ever since I was at university (because of family medical emergencies that happened at the time) I've had some kind of communication device next to my bed – at first it was a pager, then a mobile, and since 2002 some kind of smartphone; I've never thought it was a healthy habit and have been determined to do something about it – the only problem is that I listen to audiobooks on Audible and my smartphone is that conduit. The Echo has become that replacement as it integrates with Audible and that has been a game changer. I don't make use of the many skills Alexa has (although I am interested in how it could be used for home automation); the only four I use are:
"what's new?" – this gives you a news bulletin
"resume my audiobook"
"set sleep timer for 20 minutes"
"wake me up at 5:45 tomorrow morning"
The Audible integration and the integrated speaker means it has already rendered the Cambridge Audio GO Bluetooth speaker I bought last year, redundant. Even better – my mobile now charges overnight in my home office.
Amazon Kindle Voyage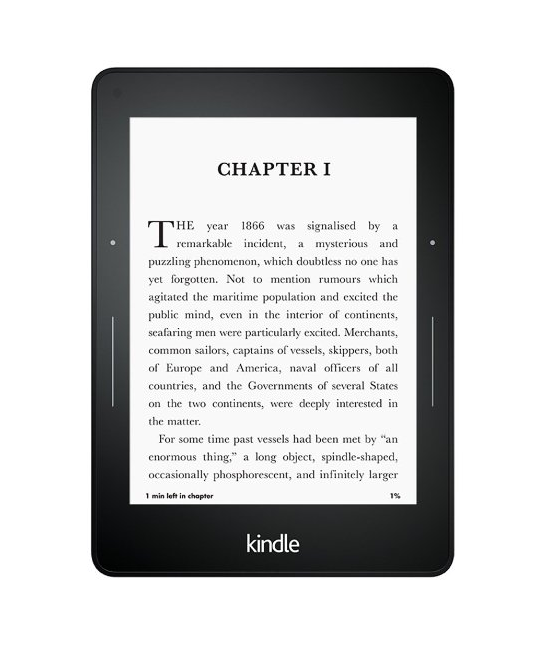 My backlog of books is ever increasing. As I've mentioned I use Audible for all fiction and narrative based textbooks (for example Platform Revolution), but I still prefer to read technical books either in paper form (while I'm waiting for code to run / debug / tests to pass) or digital if I'm commuting. I've got a first generation Kindle, but a bout of eye strain earlier in the year made me realise I needed to upgrade the device to a newer version that was backlit. One of the things I loved about the original generation Kindles was the next / previous buttons – I'm not a fan of touch on Kindles as someone who suffers from Eczema I've usually got some kind of lotion or cream on my fingers which turns an screen into a greasy smear. I was a sad to see that the buttons had been removed from the Kindle Paperwhite models, but then noticed that the Amazon Kindle Voyage E-reader – had integrated next / previous buttons with haptic feedback. I was sold, even though it's significantly more expensive. It really is a lovely device – the quality of the screen is a huge improvement over my 1st generation Kindle. It's also very nice touch to have Goodreads integration. Touch also finally makes note taking and highlighting so very simple.
Amazon Fire HD 10 Tablet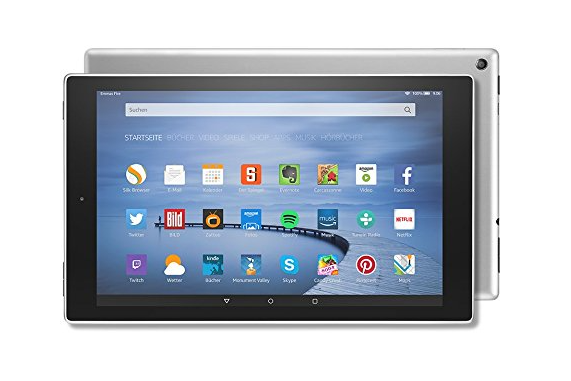 One of my Christmas presents was a Anova Precision Sous Vide, which has a rather good companion application that is only available for iOS and Android. So to make the most of it I needed a decent Android Tablet (I refuse to give Apple any more of my own money), so I settled on a Amazon Fire HD 10 Tablet. One of the main reasons is that you can side-load all of the standard Google Play Store apps without having to root the device (and void the warranty). I've only been using it for a few days – but it's a nice device – Amazon Prime Video & Netflix are fine, the screen is OK, but not great (the Lumia 950 spoils you), it's nice for reading technical books in PDF form on a 10" screen. All in all – a bit of a bargain.
Bose QuietComfort 35 Wireless Headphones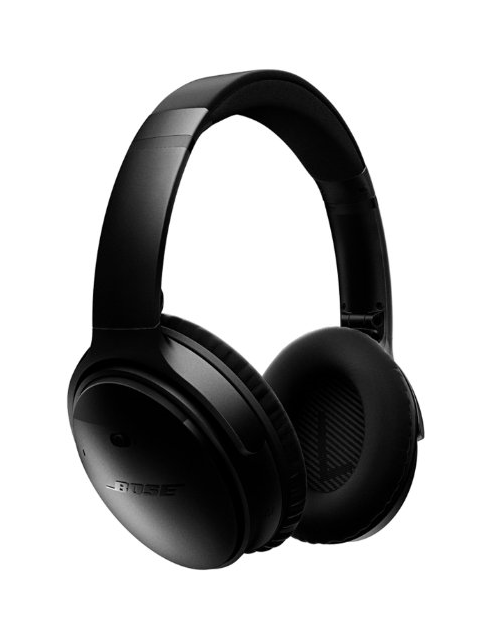 The purchase that's had the biggest impact on my day-to-day life is probably the Bose QuietComfort 35 Wireless Headphones. I've had a pair of Bose QuietComfort 3 for the last 9 years – they've been solidly reliable – only breaking (and being replaced under warranty) once. My biggest grievance was always getting the cable snagged on something… my bag, the train arm rest, another commuter… so when I read that there was a new QC model that was wireless and the reviews were very positive – I was sold. The sound quality is superb – even better than my stalwart Sennheiser HD580. Going wireless has been a revelation – not just for commuting but also wandering around home and the office. The inbuilt mic is OK for mobile / skype calls, but I still prefer the endjin standard issue Plantronics Blackwire C520 Binaural USB Headset for day to day calls. The noise cancelling functionality is outstanding; it can dull down all the commuter noise (loud conversations, PA announcements, ambient noise) – sometimes I just have the headphones on with no music playing if I just want peace and quiet, but if you want to get into the zone and exist in your own little bubble as soon as you play any music, the outside world melts away. The only negative I've found is that they do tend to make your ears hot / sweaty; it was quite unbearable during the summer in London and I swapped to standard in ear headphones. Conversely, they have been a boon this winter – keeping my ears nice and warm during the commute! I know they must be impressive as Matthew ordered a pair after trying mine out (and then promptly almost lost them in an accidental luggage kidnapping), although Mike isn't convinced because of the ear temperature issues!
Sony Bravia 49XD8077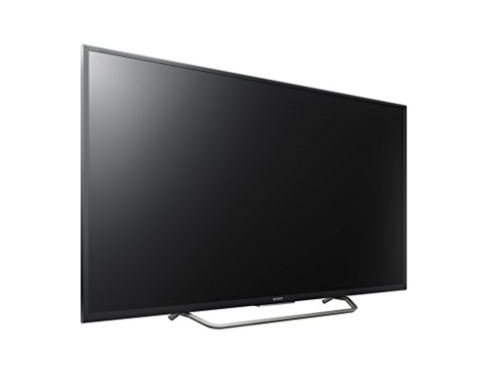 My most disappointing purchase of the year has to be the Sony Bravia 49XD8077/8099 LED HDR 4K Ultra HD Android TV, 49". My old Panasonic Viera suddenly went pop and needed an urgent replacement. I did as much research as I could and the Sony was in the short list. I went to the local John Lewis and was impressed by the quality of the screen, the very thin bezel – which was actually a big plus point because it meant I could upgrade from my previous 46" to the 49" and it would fit into the same nook. Since taking it home, I've been increasingly annoyed by the software, don't get me wrong, the hardware side of the TV is superb, but the Android TV is sluggish, buggy, and even worse the YouView app which overrides the native digital TV experience is even more buggy, sluggish, and crashes, rendering the TV inoperable without a reboot. Things have improved slightly since I've disabled the YouView app, but the TV still keeps randomly disconnecting from my Panasonic sound bar, which also requires a reboot to fix. Maybe future software updates will improve the overall experience, but I'm not hopeful.
Blue Raspberry USB Microphone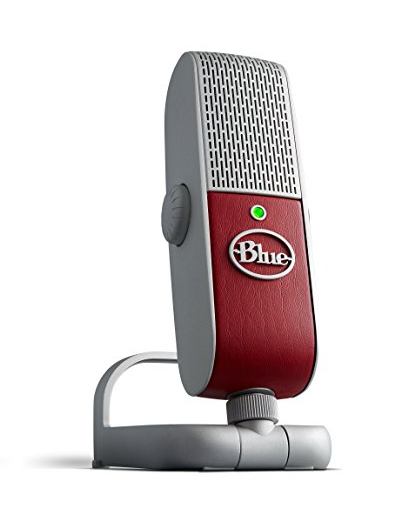 If you've seen the video on our homepage about endjin's delivery process, you might be aware that when we're delivering a project or a PoC we deliver a weekly update video to our customers, giving them a project status update, a walk through of the work we've completed that iteration, technical deep dives, and code walkthroughs, and what we're planning to work on in the next iteration. I've never been 100% happy with the audio whether that was using a Samson CO1U - USB Studio Condenser Microphone or the endjin standard issue Plantronics Blackwire C520 Binaural USB Headset. The positive reviews of the new Blue Raspberry USB Microphone grabbed my interest and I began the hunt of trying to get my hands on one in the UK; I finally managed to acquire one via ebay. My initial tests were extremely good – great voice quality, automatic noise reduction and simple to tweak the levels using a physical dial. Hopefully we'll be making use of this device in 2017 not just for our iteration videos, but I'm hoping some more informal podcasts / conversations over on our SoundCloud account.
Foscam 1080p Wireless IP Camera with nightvision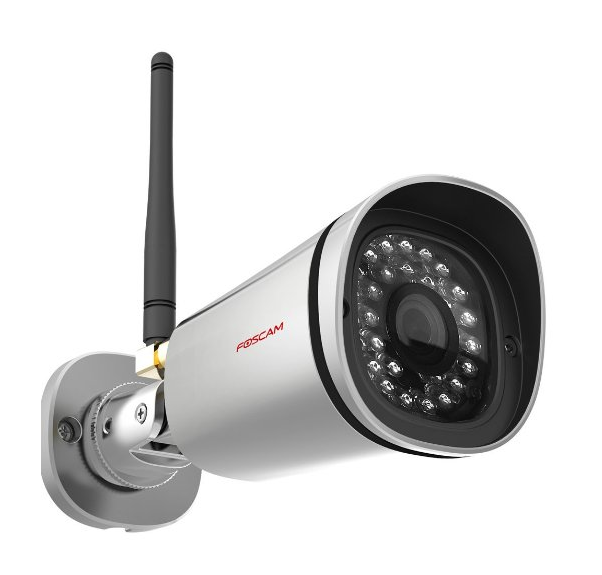 Last year there were a spate of burglaries on Bermondsey Street and we kitted out the office with Foscam FI9900P Outdoor 1080P Wireless IP Cameras, apart from the odd glitch, which Mike solved by the application of OneDrive and Flow, they've been really impressive, so I decided to get them for home too – not specifically because of the security aspects, but more because if I'm working from home, wearing my Bose QC35's I'm completely oblivious to visitors, deliveries etc, so I wanted to get alerted when a car pulled into the driveway. It's worked out very well – I didn't miss any of the numerous Xmas deliveries this year.
SureFeed Microchip Pet Feeder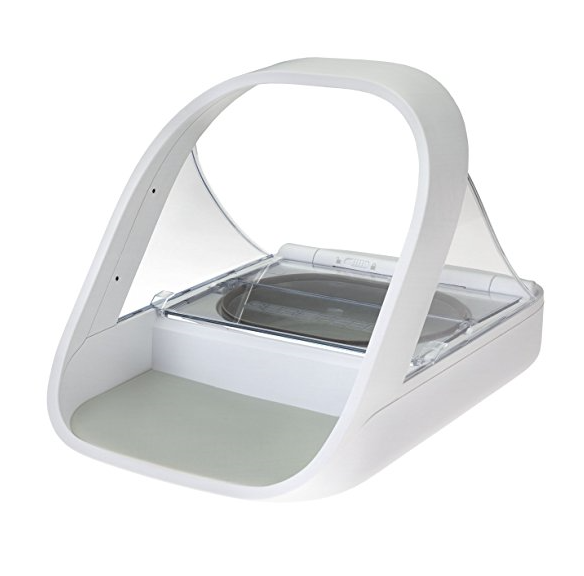 Possibly my favourite gadget purchase of the year is the SureFeed Microchip Pet Feeder; I have a dog and a cat; they do get on, it's just that the dog likes the cat's food more than her own, we tried to solve the problem by feeding the cat upstairs (out of bounds to the dog), but that just incentivised the dog to figure out how to open doors. The second problem is that cat doesn't like dry food, he demands meaty chunks (if you don't supply them, he'll go out and hunt for his own), which a) goes rancid quickly in the summer months b) attracts flies. The SureFeed Pet Feeder solves all these problems; firstly you pair the device to your pet's RFID chip, this means only the cat can open the feeder (no matter how much the dog paws at it), because it's sealed it stops the scent of meaty chunks from filling the room and also prevents flies for eating / laying eggs in the food. Win! Win! Win! At first the automated device terrified the cat, but now he's used to it. It's had a big impact in our household (the dog no longer tried to sneak upstairs for a snack), and I can imagine it's even more useful if you have multiple cats and you have one fat alpha cat and an underfed one!
Dell XPS 13 (2016) Laptop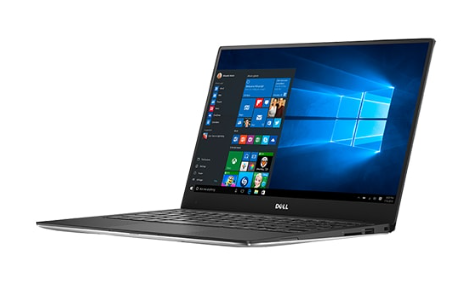 Lastly I wanted to mention the Dell XPS 13 2016 Laptop – although I'm holding onto my Toshiba Kira until I see what gets released from CES in 2017, I had to buy a laptop for Ed who interned for us over the summer, but has decided to work for us part time during his final year. I spent a vast amount of time researching which was the best laptop to buy in 2016, I personally wanted a Surface Book, but am not quite convinced that all the bugs have been ironed out of the device and really think that the Kaby Lake processors will make a huge difference to heat and battery life. I settled on the XPS 13 for Ed, and ordered the signature edition in the 16GB / 512 GB SSD, QHD + Touchscreen configuration from the Microsoft Store. It arrived a couple of days later and I was hugely impressed with the device in the few short hours I had with it while I set it up and installed all the software Ed would need. During the whole configuration (including the various Windows Update iterations) I only heard the fan come on once – during the Visual Studio installation process. The screen is stunning, the keyboard is great and includes backlighting of the function keys (my biggest gripe of the otherwise fantastic Kira). My only wish is that every PC manufacturer would settle on a) Windows Hello compliant cameras b) Microsoft Precision Touch trackpads c) non-Surface touch devices could also have a stylus. My laptop in 2010 was a Dell XPS Studio – it cost me an absolute fortune and was heavy, buggy and put me off ever buying another Dell; the XPS 13 has renewed my faith – if nothing exciting is released at CES I'll be getting an XPS in 2017. Or maybe a HP Spectre.
Did you buy any tech that's made a positive impact on your life in 2016? Leave a comment below!