Thoughts about .NET, The Cloud, AI, ML, and teaching software engineers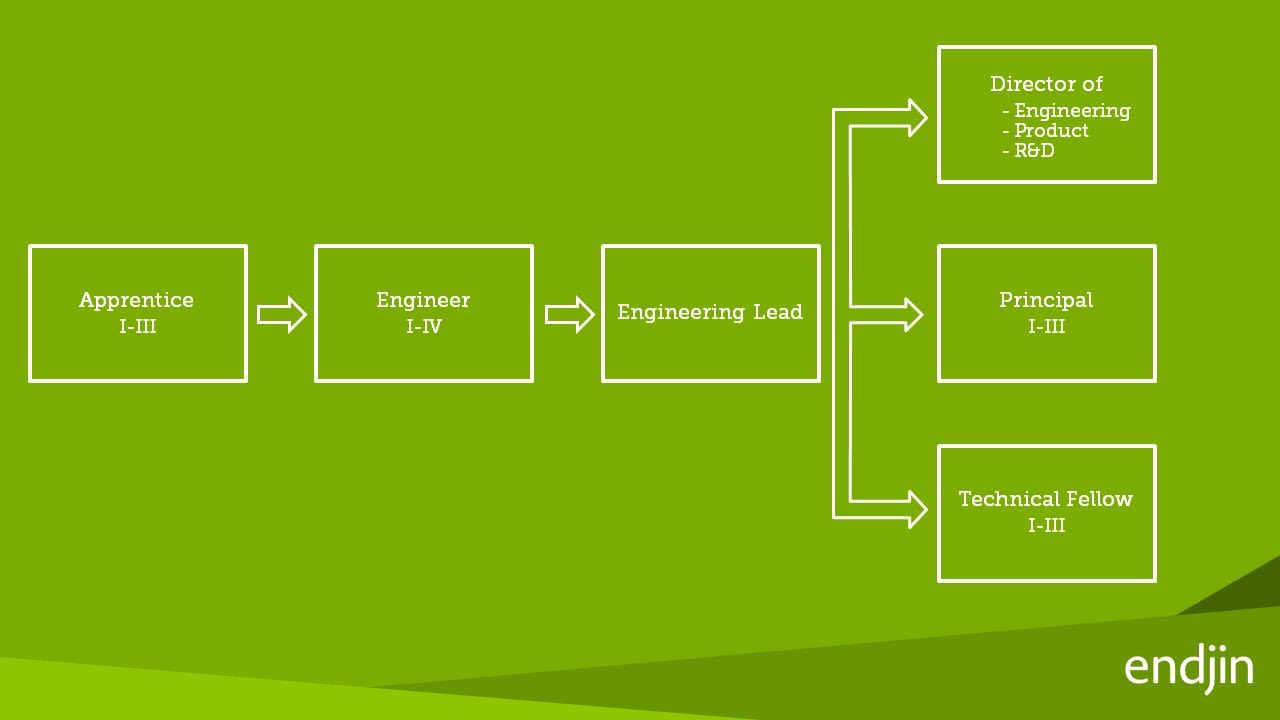 I'm very excited that Ian Griffiths has joined endjin as a "Technical Fellow". This is a new career pathway branch we created especially for Ian, as he didn't really fit into any of our existing roles; his skills and expertise exemplify a pathway that many software engineers desire, but few have the opportunity to achieve in most "classic" organisational structures.
Here's our career pathway for software engineering. The only thing it's missing is the role of an intern (which is essentially at the same level as an Apprentice I, but the salary is pro-rata'd).
I've known Ian since 2010; we've worked together over this period, and it quickly became apparent that he is a rare commodity - a "full stack developer" in the true sense of the phrase; a software engineer who can start at the silicon and has mastered every layer up to the user interface.
My admiration for Ian has grown immensely in the last year as we've been working on the prototype of a reactive data processing platform; it's some of the most complicated, mind-bending software architecture I've ever experienced, yet Ian takes it in his stride. It's very humbling when you're 20 years into your career as a software engineer, and you meet someone who is so obviously operating at a higher frequency. Humbling, but also so very exciting; because it's the most fantastic opportunity to learn and grow. Now that Ian has joined endjin, this is an opportunity that everyone within the organisation can take advantage of, and a key aspect of the Technical Fellow role is to make that happen; a rising tide lifts all the boats.
The discussions around Ian joining endjin have spanned a number of months; during that time we talked about a huge range of topics; from the past, present & future of endjin, the state of the .NET ecosystem, the state of The Cloud, the hype surrounding Machine Learning and AI, apprenticeships, mentoring, teaching, knowledge sharing, feedback loops, intellectual property, and product development to name a few.
Other than Matthew, who has known Ian for over 25 years (as they went to Cambridge University together), the rest of the endjin team don't know Ian as well, so I suggested we do a Q&A. It was an iterative process; I asked a few questions, Ian answered them, the team read them and posed a number of new questions. Fortunately the conversation flowed nicely and clustered around 5 main topics; information about Ian's history, .NET development and The Cloud, Machine Learning and AI, training software engineers, why Ian wanted to join endjin and his thoughts on the Technical Fellow role.
This week I published the 5-part interview with Ian over on LinkedIn:
I would highly recommend settling down with a nice beverage and having a read; parts 2, 3 & 4 are particularly worthwhile.
You can read more content from Ian on his blog, and you can follow him on twitter.