Becoming an endjineer – week 1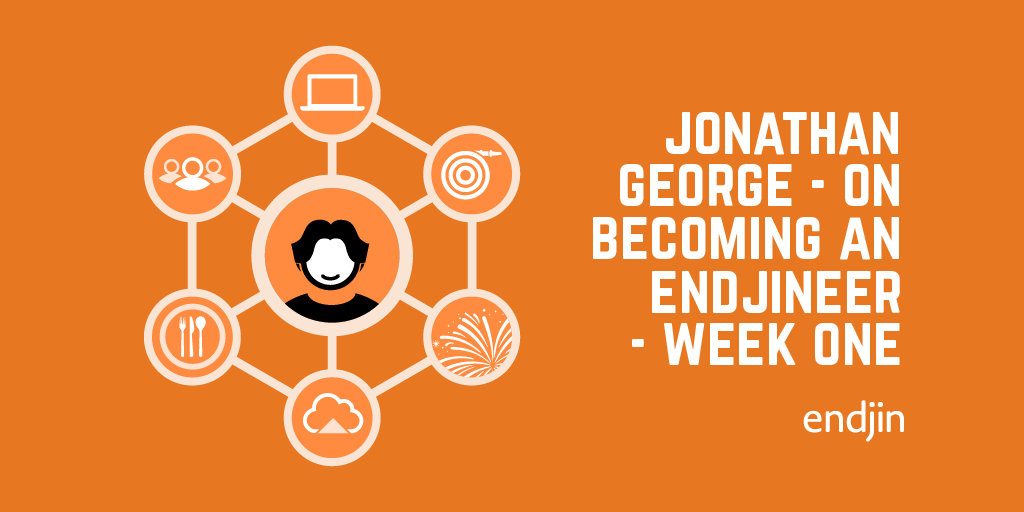 How did I end up here?
On 16th April this year I started a new stage in my career by joining endjin. In one way, it's been a couple of months in the making, but in another it's been more like 8 years! Back in 2010 myself, Howard van Rooijen (one of endjin's founders), James Dawson and James Broome (our Director of Engineering) were all working on a large ecommerce project at EMC Consulting. We went our separate ways afterwards but stayed in touch and so in some ways, being back working together again seems almost like coming home.
In January this year, I got in touch with Howard to talk about the possibility of joining endjin. Over the next couple of months, at a pretty relaxed pace, I had chats and pairing sessions with the team to get to know everyone. The process took a little longer than normal because I was the first person who'd interviewed for endjin since the company went fully remote, so conducting an interview process without any in-person meetings was as new to them as it was to me. The most surprising part of the process was that even before I joined I started having an impact – questions I asked about the contract resulted in internal discussion followed by some significant changes for the whole team. Even with a small company, this is unusual – it's often possible to negotiate for yourself, but endjin is committed to fairness and transparency across the board, meaning that if my contract was going to change, so it would be for everyone.
All the swag is belong to me!
Almost as soon as I'd put my name to the contract, packages started arriving at my door. This started with a new desk and office chair, a very shiny Microsoft Surface Book 2 complete with dock, pen, keyboard, mouse, headphones… the list goes on.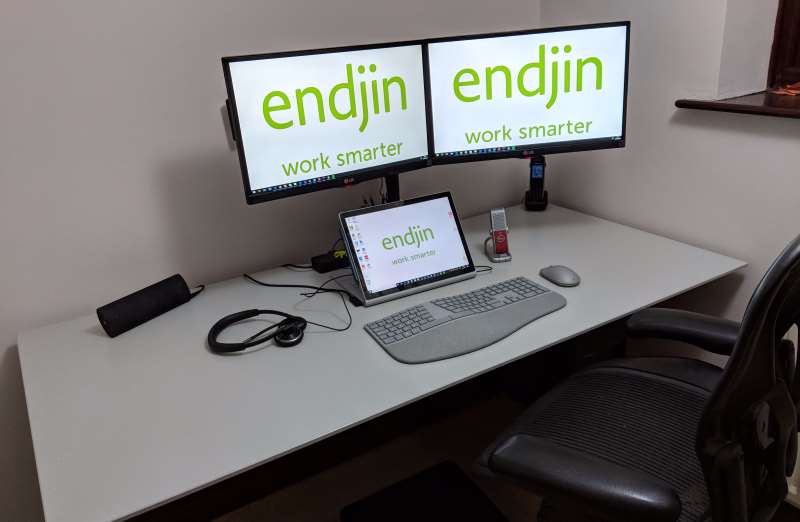 This is an excellent set of kit – it means I have a work space that's as comfortable as any I've worked in before, the Surface Book is easily powerful enough for me to use as my main dev machine and for the times when I do need to venture out, it's nice and light and has excellent battery life. For jobs like ours that mean long periods sitting and reliance on sufficiently powerful computers, not skimping on the kit is vital. Clearly we were off to a good start.
Playing catch up
One of the challenges when joining a new company is how you get up to speed with what's happened before – more often than not, you'll be getting involved in projects mid-flight, and it can be a challenge to make good decisions without sufficient background. However, I was soon shown endjin's library, containing videos of internal talks, and demos, captures of end-of-iteration client meetings and so on, all neatly organised. This has proved to be an invaluable resource for understanding the evolution of our projects, and – especially in the case of the client meeting recordings – is a great example of how endjin is always looking to get additional value from whatever we do.
Firehose
So, the day finally arrived for me to start. I'd caught up with Howard the day before – "I'd like to spend some time with you in the morning" he said. That's apparently endjin-speak for "I'd like to try and give you so much information that your brain melts". So that day I got the full tour of endjin's internal systems, processes, clients, IP and so on,. By the end of it I was left with a rather large mind map and a feeling like I'd tried to drink from a firehose. We also spent some time talking about what I wanted to do and my "personal elevator pitch". All in all, a tiring first day but a good one.
Getting to know you
Day 2 was somewhat different – to mark my joining the team, Howard and Matthew had organised a team lunch followed by a trip to "Star Wars – Secrets of the Empire" in the afternoon. Most of the team congregated in a nearby cafe and then we headed on to Scully St James's for an amazing lunch. Having read the menu in advance I had absolutely no idea what to expect – however we all got to try everything on the menu and there was nothing I didn't want more of. Three hours, and several bottles of wine later, we made our way over to Stratford.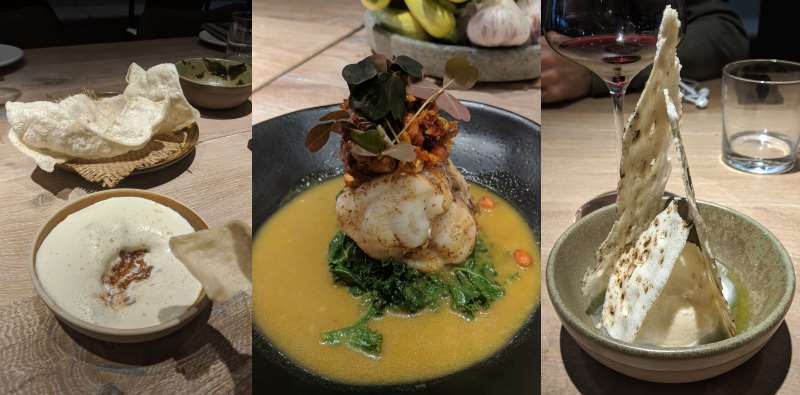 The Void is billed as a "full sensory, immersive experience" and it didn't disappoint. To start, everyone dons an Oculus Rift headset but instead of the standard VR experience where players stay sitting or standing in one location, you get to move around. It's a strange feeling at first – especially when you look at your friends and see stormtroopers, but as you move from one location to the next you truly do feel like you're in the middle of the action. The blend of virtual and physical is hugely impressive – at one point, your in game guide tells you to grab a blaster – you reach out for one and find that yes, there really are physical objects there for you to pick up and move around with.
In my experience it is almost unheard of for an organisation to get the entire company together just to welcome a new employee – and this is yet another indicator that endjin is not just another company. Although day 2 didn't involve much in the way of actual work it allowed me to get to know my new colleagues in a far more informal way than would otherwise have been the case.
Getting busy
The second half of the week saw me getting more deeply involved in some of our projects, listening in on a strategy call with a client and hosting Matthew in my as-yet-unfinished home office for a day. As we're all home workers, it's common at endjin for those who live close enough to get together regularly so that no-one feels too isolated. These last few days have been great – I'm getting a good feel for how projects are run at endjin and how I can step into my new role here. I'm also gaining a significant amount of knowledge of areas of Azure I hadn't previously used – Data Lake, CosmosDB and Data Factory to name a few of particular interest.
A different perspective
Although I knew a lot about endjin prior to joining, it's been great to see everything from the inside. Unlike other consultancies, endjin isn't about body shopping consultants out, and ensuring everyone is utilised all the time. It's about looking for ways to deliver as much value as possible from everything we do. This is a significantly different perspective from most companies and one which takes some getting used to. In addition, I've joined at a time where endjin is really focussing on our support for the developer community and it's been great to see a lot of discussions around sponsorship of events such as DDDSW and DDD Wales since I've joined, with endjin giving both money (sponsoring elements of the events) and time (in the form of James, Mike and Jess's excellent talks). Joining endjin gives me a huge opportunity to develop myself as a consultant as well as helping our business grow, and I'm really looking forward to what comes next.