Azure Weekly turns 1 & we're celebrating by giving away 5 Windows IoT Raspberry Pi 2 starter kits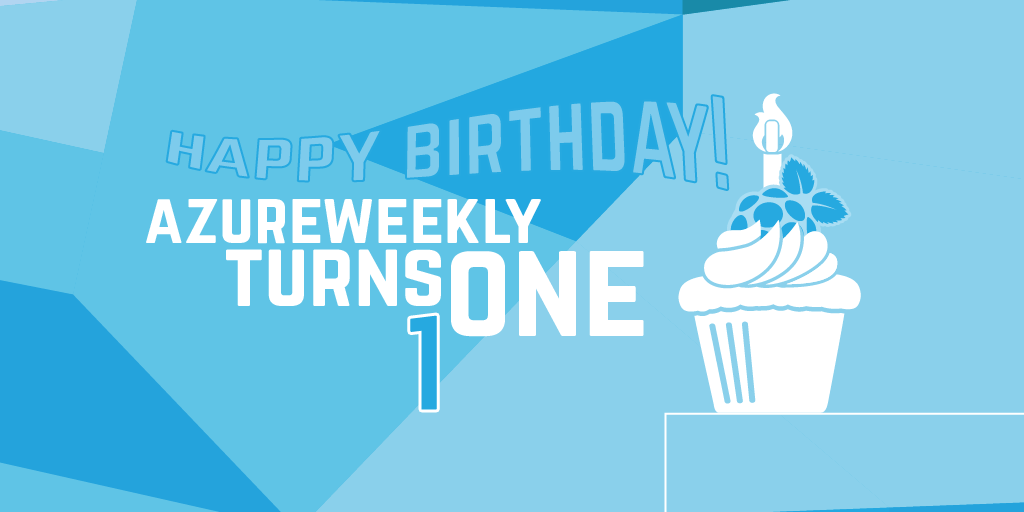 A year ago we launched Azure Weekly, a free weekly email newsletter that covers all aspects of the Azure ecosystem:
Management & Automation (Azure Automation, Azure Scheduler, Key Vault, Docker, Azure Resource Manager and PowerShell to Application Insights and Operational Insights)
Compute (Virtual Machines, Cloud Services, Azure Batch & RemoteApp)
Networking (Virtual Networks, ExpressRoute, Traffic Manager, Load Balancer, DNS, VPN Gateway & Application Gateway)
Web, Mobile & IoT (Azure Web Apps, Mobile Apps, Logic Apps and API Apps, Mobile Services, Mobile Engagement, API Management, Notification Hubs & Event Hubs)
Data & Analytics (SQL Database, SQL Data Warehouse, Azure Data Lake, HDInsight, Stream Analytics, Data Factory, Data Catalog, Machine Learning, DocumentDB, Azure Search & Cache)
Storage & Backup (Storage, Import / Export Service, StorSimple, Backup & Site Recovery)
Media & CDN (Media Services; Encoding, Media Player, Media Intelligence, Content Protection & On-demand Streaming & Content Delivery Network)
Hybrid Integration (Azure Stack, ExpressRoute, BizTalk Services & ServiceBus)
Identity & Access Management (Active Directory & Multi-Factor Authentication)
When we first started producing Azure Weekly, it was a laboriously manual process but we soon decided to apply our "work smarter" mantra and automated the data gathering steps by writing custom activities for Azure Data Factory which fed articles into Machine Learning algorithms to help classify & categorise content; finally we wrote a custom integration to render and publish the newsletter into our email campaign platform; this freed us up to spend more time writing the editorial.
51 issues later we're just about to reach our first anniversary and we decided to so something special to reward our subscribers; we're giving away 5 Windows IoT Raspberry Pi 2 starter kits - everything you need to get started developing an IoT application on Windows 10 and Azure:
All you need to do enter the competition is be an active subscriber of the newsletter (either fill in the form below or sign up at azureweekly.info):
Enter me into the prize draw!
The competition ends on Saturday 7th of November. Winners will be notified by email and the starter kits will be shipped directly to them.
You can also keep up-to-date on all things Azure by following @AzureWeekly on Twitter