Have you signed up for the Azure Weekly newsletter?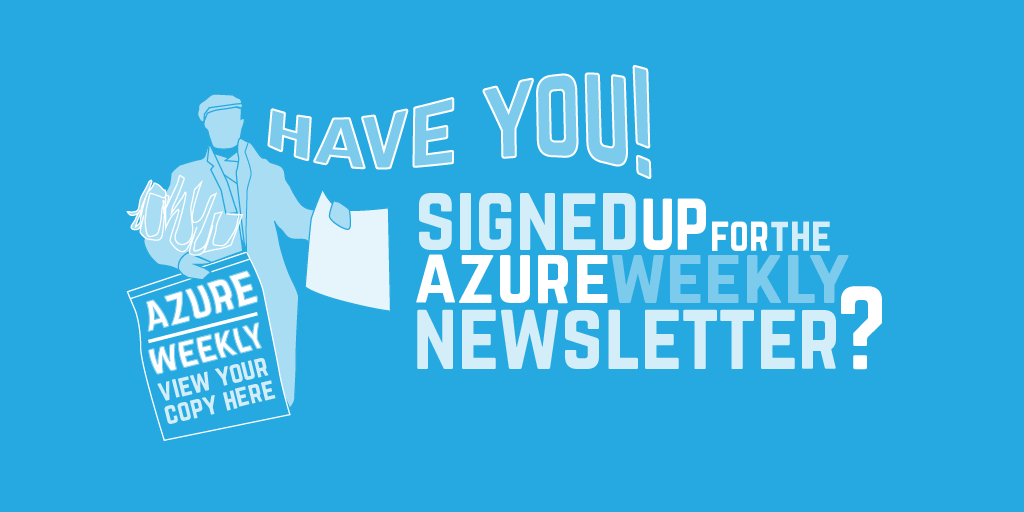 I've been a long time subscriber to DevOps Weekly and more recently to Hadoop Weekly; they are great services that offer a condensed, useful summary of interesting information about their subject areas, combined with items about new tools as well as user events. While reading through Hadoop Weekly last week, I wondered if anyone had created a similar service for Azure – a quick search didn't return any useful results and a WHOIS showed that although someone had bought the .com domain, it was dormant.
As I've mentioned in the preamble to my "research roundup" posts, internally at endjin, we share information via various yammer groups, we already collect a large amount of content about Azure and it's only a small step to create the newsletter.
I've settled on the following categories for content in the newsletter:
Management & Automation: covers all things automation; from Azure Automation, Resource Manager to PowerShell and beyond
Compute: covers PaaS, IaaS & RemoteApp
Networking: covers Virtual Networks, ExpressRoute & Traffic Manager
Web & Mobile: covers Azure Websites, Mobile Services, API Management, Notification Hubs & Event Hubs
Data & Analytics: covers SQL Database, HDInsight, Stream Analytics, Data Factory, Machine Learning, DocumentDB, Azure Search & Cache
Storage & Backup: covers Storage, Import / Export Service, Backup & Site Recovery
Media & CDN: covers Media Services & Content Delivery Network
Hybrid Integration: covers BizTalk Services & ServiceBus
Identity & Access Management: Active Directory & Multi-Factor Authentication
If you would like to subscribe, you can use the sign-up form on http://azureweekly.info, which also contains archives of all preview issues.
You can also follow @AzureWeekly on twitter.
Feedback and interesting content is also welcome!